The system also allows the production lines to be fed directly by a milkrun train according to the Lean Manufacturing principles.
About THK Rhythm Automotive
THK was founded in 1961 and is one of the world's pioneers in the development of linear motion mechanisms. Devices with linear motion are nowadays an indispensable part of the mechanical and electronical systems in diverse industries. The Company has also developed several different unique mechanical components, including ball spline, ball screw and link ball, which are being produced and supplied globally. Today the company counts over 800  employees in Czech Republic.
The solution
Five years ago, THK Rhythm Automotive chose the Lean Dolly & Adaptor pallet solution to handle their flow of goods. "We chose the Lean Dolly & Adaptor pallet system from K.Hartwall in 2018 to optimise  material flows between our plant and subcontractors and to feed our production lines with components. Since then, we have been continuously expanding its use into the next projects with the aim of eliminating manual pallet handling and reloading of boxes from pallet to carts" says Martin Rychlík, Logistician at THK Rhythm Automotive.
"And the best is that the Lean Dolly & Adaptor pallet concept implementation is not only making our intralogistics more efficient, it has also improved the ergonomics and working conditions of our operators." says Marek Svoboda, Internal Logistician at THK Rhythm Automotive.
"The Lean Dolly & Adaptor pallet concept means savings throughout our customers' supply chain by improving logistics processes, especially when supplying production lines with a milkrun train" comments Miroslav Dvořák, Regional Sales Manager in K. Hartwall. "We are proud of our long-term relationship with THK and are very much looking forward to the next projects".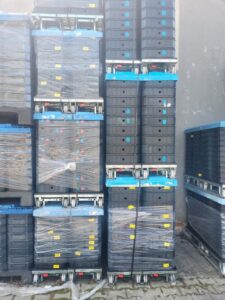 The Lean Dollies are available in various sizes and can be equipped with different accessories to suit most of the trays and KLT boxes used in the automotive industry. The Lean Dollies can also be towed to each other and towed to other Lean products to create a very efficient milkrun train which can transport multiples sizes of components in one go.
The Lean adaptor pallet can be used to store or transport Lean Dollies. It enables the goods to be transported and delivered on the same equipment without any unloading/reloading between companies and their customers or suppliers. This brings an enormous gain in time and costs to both parts making it a win-win solution.
The cooperation between the two companies is extended as THK has started to use another product of the K.Hartwall Lean Modular family – the Pallet Size Dolly. It is currently used for the transport of components and semi-products. "By using these carts the work of storekeepers improved especially during peak seasons." says Marek Svoboda.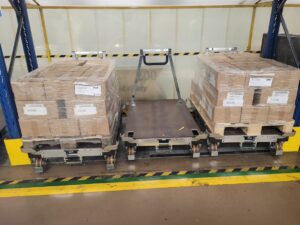 Earlier THK used to move pallets with forklifts, thanks to the milkrun trains they are able to reach a forklift-free environment. This means less traffic and congestions as one milkrun train can transport several pallets at once as well as improved the safety.
By using the K.Hartwall Lean products and implementing Lean principles, THK Rhythm Automotive can improve productivity, increase operational efficiency and enhance overall quality. The reduction in manual handlings and improved material flow help them achieve a leaner and more streamlined manufacturing operation.
Want to know more? Please contact your local sales manager or send e-mail to contact@k-hartwall.com and we will be soon in touch!
To know more about our solutions, please visit: www.k-hartwall.com
Miroslav Dvořák
Regional Sales Manager Central Europe
miroslav.dvorak@k-hartwall.com