BAHAG BAUS Handelsgesellschaft AG is the company behind the 270 BAUHAUS stores located throughout Europe. Founded in 1960 by Heinz-Georg Baus, the company is a retail chain offering products for home improvement (DIY), gardening and workshop. Currently, more than half of the BAUHAUS stores are in Germany. More than 10,000 articles are sent out of the German central import warehouse in Krefeld to across all stores and warehouses in Europe.
The main objectives of this project were to increase vehicle cubic fill, improve the quality of deliveries, simplify handling for employees and increase sustainability.
In short, the main aim was to make the handling of long or bulky items more economical and ecological. K.Hartwall SmartCube® Standing Items was the perfect fit.
"In 2021, we decided to gradually convert our logistics system to one based on environmentally-friendly and high-quality returnable load carriers in order to make these processes more sustainable," comments Tobias Seibel, Head of Project Management at BAHAG AG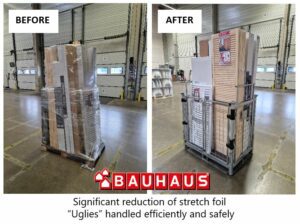 This conversion to high quality load carriers was also meant to improve the internal quality assurance. Bulky and longer items with overhang used to be transported on open pallets increasing the risk of items getting damaged during transportation.
The K. Hartwall SmartCube Standing Items allow these long and bulky items to be transported standing upright. It is designed to carry items which need to be transported vertically such as doors, shower panels and heating elements. Keeping the transported goods safe and sound – no shrink wrap is needed for protection, a fact that lowers costs and enhances product visibility.
With a load capacity of 1 tonne, the 64 loaded euro-pallet footprint size units which fit in truck maximize the cubic fill to make transport as efficient as possible. The SmartCube is available in ISO size as well. Naturally, the Smartcube Standing Items is fully compatible with the other products of the family, such as the SmartCube Jumbo.
After testing the SmartCube, BAUHAUS and K. Hartwall worked in close cooperation to optimize its design in order to make it more suitable for the specific processes within BAUHAUS, adding features such  as telescopic sides which can be lifted to support longer products. The first deliveries were made to the Krefeld DC in November 2021, followed by a second batch in June 2022. Now, all the German, Dutch and Luxembourgish branches are handling goods in a more efficient way by using SmartCube foldable cages daily.
To keep track of where the SmartCubes are located within their different locations, BAUHAUS uses Bosch trackers. The trackers, which are installed to the unit by K. Hartwall, are also used in addition to measuring the arrival time of the trucks at the branches.
The high-quality SmartCube transport containers have consistently delivered impressive results. Therefore, BAHAG AG plans to soon switch to returnable load carriers for other item groups than long and bulky products.
To learn more about the SmartCube® Standing Items, please click here or or watch the following video.
Want to know more? Please feel free to contact me.
Anton van Ginneken
Sales Manager Western Europe
anton.vanginneken@k-hartwall.com